Patient Testimonials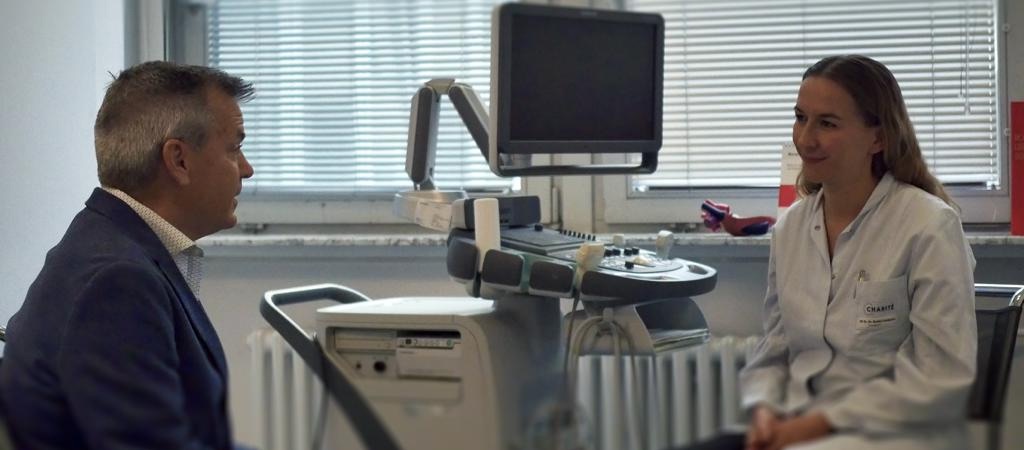 Anonymous
"Dr. Heidecker helped me during a very, very difficult phase of my illness and gave me support. With her knowledge and expertise, she is able to reassure patients and give them hope. Given her dedication and interest in a patient's condition, one is in very good hands and lucky to be treated by her. She excels in her profession and I am very happy to have her as my doctor."
Johanna S.
"With a rare autoimmune heart disease, I am very glad to be in the care of PD. Dr. Heidecker. She takes very good care of my current therapy in a highly competent manner, as well as further necessary steps. As a patient, I benefit from Dr. Heidecker's collaboration with national and international colleagues in the field. Furthermore, I highly appreciate her friendly manner and feel very well taken care of."
Olena Y.
"Dr. Heidecker is a very good and competent doctor, who exudes confidence. She was also very helpful with my limited German and spoke fluent English with me. She listened so closely to me and was really interested in discovering the cause of my symptoms. Dr. Heidecker performed all the necessary tests to make sure everything was okay with my heart. Dr. Heidecker takes time for you, listens to you and makes you feel understood. Thanks a lot!"
Gunnar S.
"Having an acute myocarditis, I was lucky to find Dr. Heidecker's clinic. The diagnosis was made quickly, and Dr. Heidecker provided clear explanation of the treatment steps. With a lot of empathy and noticeable expertise in her field, she helped relieve my fears and anxiety about the diagnosis. To take into account all possible risks, further functional examinations were performed so that sarcoidosis could be ruled out. As a long-time runner, I can now pursue running again. I feel that I am in very good hands with Dr. Heidecker."
Haci C.
"After a long odyssey through several hospitals and cardiologists, I arrived at Dr. Heidecker's clinic at the Charité. Previously I was told that I was not allowed to move much anymore due to my illness and that I should accept it as fate. Through the therapy and advice of Dr. Heidecker, I have recovered from my illness well enough to work again. Thank you again for the great care. No distance is too long for my health, so I don't shy away from driving 300 km every time to find myself in good hands."
Anonymous
"Dr. Heidecker took me into her care towards the end of my Olympic athlete career. Together we were able to ensure a healthy transition from competitive sports to a life without it. Dr. Heidecker always impressed me with her professionally competent and friendly manner. I always felt well taken care of and safe in her clinic. I would like to emphasize in particular her interest in the latest scientific discoveries, which came into play in all treatment steps. Thank you from the bottom of my heart for the support!"
Heiko P.
"In Dr. Heidecker's care I feel in very good hands. My therapy plan and information about my illness are excellent. If necessary, the medication is adjusted in order to achieve the best possible therapy. Dr. Heidecker also has the experience, the necessary clinical judgment and sensitivity to recognize possible changes in the clinical condition. My particular condition requires the best treatment and I get that from Dr. Heidecker."
Elke B.
"For several years, I have been treated by Dr. Heidecker for my giant cell myocarditis. As a patient, I always experience her as very approachable and extremely friendly. Dr. Heidecker, as far as I can tell, is highly competent in her field and familiar with the latest developments, innovations and advances in her area of expertise. She goes above and beyond the usual level of patient care. For this reason, I gladly take a very long journey of more than 500 km to her clinic in order to be treated in the best possible way."
Michaela S.
"For three years I have been followed and treated by Dr. Heidecker for my cardiac sarcoidosis. The routine examination includes first an ECG and then the pacemaker check, followed by the conversation and the ultrasound examination of the heart by Dr. Heidecker. Finally, a blood sample is taken. The topic of the conversation is of course the physical condition as well as the medication and any adjustments that need to be made. I feel the need to point out that Dr. Heidecker is a very warm and human doctor, who expresses herself in layman terms and who patiently answers all the questions you want to ask. She takes her time and is open to hear about the personal circumstances. I appreciate her approachable and extremely competent manner and I am very grateful to have found a specialist in this field in her. For this I am happy to take a 500 km journey. With this serious diagnosis, I feel in the very best hands with Dr. Heidecker."
Stephan B.
"Dr. Heidecker is not only a dedicated and empathetic doctor, but also a proven expert in her field. Since in my case the cardiac sarcoidosis was not recognized by other doctors and was not treated elsewhere, I am glad that Dr. Heidecker pushed ahead with the diagnosis and initiated the right treatment. With this rare disease, I appreciate her international network and the comparatively high number of sarcoid patients she is treating to be very important and valuable. Even during my long treatment period, Dr. Heidecker was always approachable and informed. She always tried to find interdisciplinary solutions if needed."